Chapter 1 - The Magic City
Master Alchemist Zoana is invited to live in the magic city of Bethellium with the promise of getting a better laboratory and conditions to perform her experiments. But as soon as she arrives, she finds lies and secret schemes. With the help of the only friendly faces she met in the city, Zoana embarks on a mission to save the Grandmaster and secure her place in Bethellium.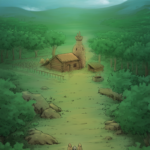 Chapter 2 - The Hemlock's Scar
Master Alchemist Zoana has finally settled in the city. But a new problem arise as Katherine, an important member of the city's Council accuses her of being the heir of a killer. Now with her place in the city at risk once more, Zoana is forced to face the shadows of her past. The scars left by the Hemlock, mark more than one.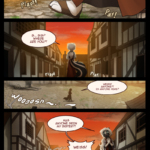 Chapter 3 - Death's Path
A truce has been reached between Zoana and Katherine. But there's little time to celebrate, because the twin city of Bethellium, called Nebeldorf is now under the siege of an army of undead. Things get complicated as Zoana and her friends get dragged into a battle with a Master of Death. In the meantime, beloved Elle lies in bed waiting to wake up. Her destiny may be more linked to the upcoming battle than what they could foresee.